Mitchellex, a joint block of Mitchell and Complex hall has endorsed FDC'S flag bearer Justus Tukamushaba as its sole candidate in the ongoing guild race.
In a letter dated 12th July, 2022, the Mitchellex elders said following the suspension of their guild aspirant Mwesigwa Calvin, they have decided to front Northcote hall's Justus Tukamushaba.
The elders further asked all members of Mitchell and Complex Halls to rally behind FDC'S Justus.
"We therefore request and beseech all the residents of Mitchellex solidarity and the entire students' fraternity to rally behind the Just Us generation because you are we, we are you, we are just us." Part of the letter reads.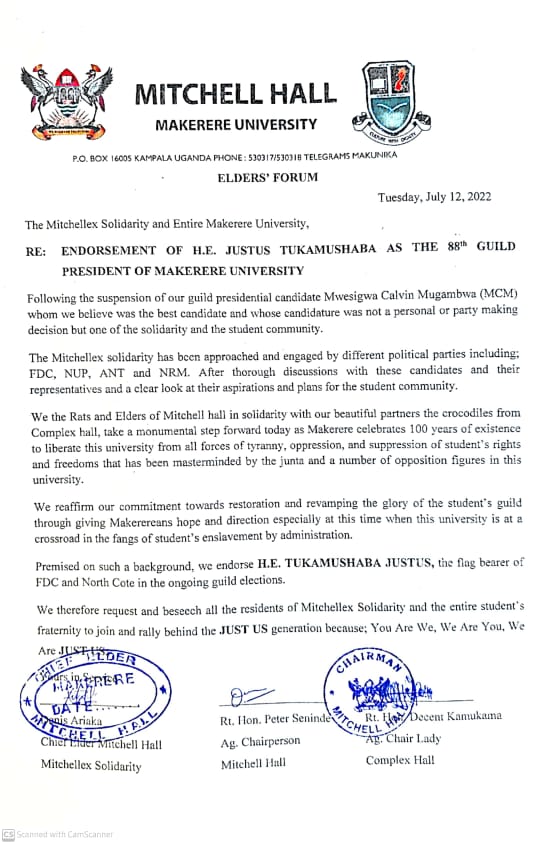 As part of hall culture, every student at Makerere University is expected to support a candidate endorsed by his/her hall of residence.
Justus' endorsement by Mitchell and Complex hall means residents of both halls will support him in the ongoing guild elections.
Makerere University students will vote for their next guild president on Friday July 15th, 2022, and the 'Just us' sloganeer Justus Tukamushaba is optimistic that he will emerge victorious.
For the past three elections, the National Unity Platform (NUP) aspirants emerged victorious. The Friday polls will decide whether this status quo remains or not.
Related: MakGuildRace: Who will be Makerere University's Next Guild President?
Comments