Makerere University has asked all first-year students (freshers) to report on 29th January with laptops as essential tools to help them with their studies. However, the move was not welcomed by freshers as well as some parents.
The directive, which started as a suggestion in 2020 has gathered comments from several Ugandans who took to social media to air out their views. Some Ugandans believe that many parents cannot afford to buy laptops while others argue that the gadgets are cheaper compared to the money Makerere students spend on printing handouts and photocopying educational materials.
"Joined Muk in 2012 and didn't really see why I should own one, ofcourse there were those scenarios where you'd want it for something but alternatives are always available around you and they shouldn't stress parents who can't afford them." A one Aaron Rigah commented on a post shared by KFM, a local radio station.
"Covid-19 has accelerated need for technology in places of learning.Online lectures and sorts of meetings need you to have such gadgets. Please parents prioritze laptops for your children." A comment shared Daniel combs reads.
Following the outbreak of COVID-19, several institutions of higher learning switched to online lectures which later became a challenge for students with no laptops and other gadgets. Makerere University based on these challenges among other reasons to order all freshers to report with laptops.
In 2020, Makerere University Vice-Chancellor Prof Barnabas Nawangwe revealed that students would get subsidized laptops for online studies with the help of a "giant tech company". Nawangwe did not reveal the name of the company but according to current developments, the university is not concerned on how, where, and how much students get laptops as long as they report on campus with the mentioned gadgets.
Below are more comments from Ugandans;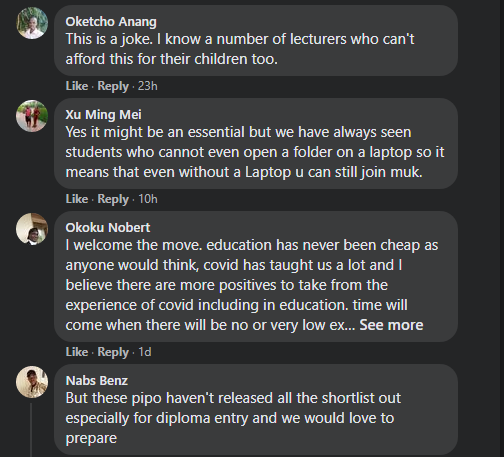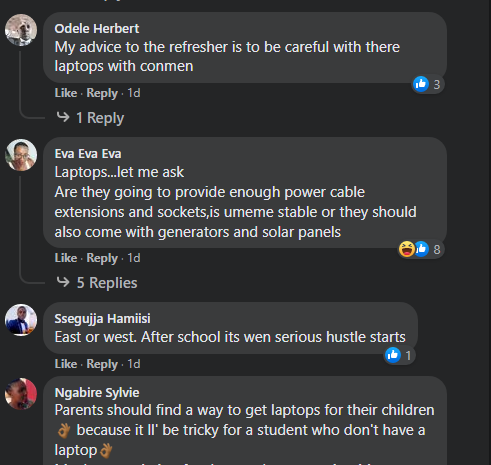 Comments