At the beginning of last year, we were saddened by news of the deteriorating health of Makerere University Business School [MUBS] student, Alice Nankinga who was battling Cancer. Kinga, a second year student at MUBS was then battling cancer after she was diagnosed with tumors in 2015 and she was seeking for financial help to raise 22 million for the operation in Nairobi.
In her Facebook post, she called onto people to help her raise the money so she would do away with the traumatic pain she was going through;
"Hello everyone, my name is Nankinga Alice am 20yrs old. I was 18 when I was diagnosed with an ovarian cyst,i was in so much pain that in 2014 June the doctors decided to remove the cyst. Then from there I kept on getting arctics in my stomach which the doctors kept on draining for six months. I was then diagnosed with tumors in 2015 ,one in my spleen another in my ovary. I could barely walk or talk nor eat and drink. I was in a lot of pain, I lost weight to 34.5kg . The doctors decided to remove my spleen and the other tumor, then I had to get chemotherapy treatments. Which I decided to get, I did 4 cycles of the first prescription and the medicine collapsed. The doctors changes the prescription, which also wasn't responding.At this point I was starting to give up on life but kept on praying to God that I will be healed. The doctors then decided to change prescription which also did not respond. As I was having the chemotherapy more tumours grew.,the doctors Did all the could at the cancer Institute but nothing was working.

I then went in for another operation in 2016 February, after which I was supposed to try radiotherapy but the machine was down. I was told to try Kenya but the money is a lot. My dear friends, family, brothers and sisters please help me out for treatment is 22million shillings. Any contributions will be appreciated. As i speak or type I have two tumours in my waist causing so much pain. The cancer was diagnosed as MALIGNANT TERATOMA. Please help this poor soul (0704265846/0772429500)for mobile money. Thank you may God bless u" she wrote on her Facebook.
In an exclusive interview with Campus Bee, Nankinga explained to us that she had lost her reproductive system during one of the operations that was intended to eliminate the cancerous cells in that area in 2015. By then, she had stopped school in the first semester of first year after she started falling painfully sick with a swelling in the stomach that was later diagnosed as a tumor. She was diagnosed with two tumors in 2015, one in her spleen and the other in the ovary hence she had to undergo an operation where the spleen tumor and her reproductive system was removed by Dr. Mutyaaba of Kibuli Hospital.
Nankinga also explained to us on June 20th 2016 that she had two more tumors in her waist. On diagnosis, it had been discovered that she was suffering from Malignant Teratoma. The tumors that often grow in three weeks had by then started to cause her trouble, "that's why I am moving around now, looking for help before I am put down by the tumors," she commented.
More fundraising was done to save the life of the lovely Nankinga, and later a car wash was organised at Ndejje Senior Secondary School and a good sum of money was collected towards the same cause of saving her.
It should be remembered that in the very start, we were all looking to fundraising 22m Ugx for radiotherapy in Nairobi, but later, the figure took a hike to 54m Ugx which was required to take Nankinga to India for operation so as to do away with all the cancerous cells.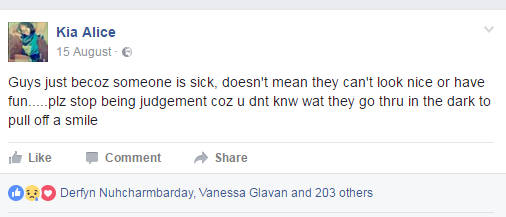 Nankinga later told one of our writers that the doctors had confirmed to her that there's nothing to be done about her condition, no operation or procedure could save her from this cancer that was eating her up.
A month or so later, she attended the 'Comedy Store' show hosted by Alex Muhangi every Thursday at Dinners lounge. She attended the show just to have a glimpse at her fave musician, Sheebah Karungi.
Her 'dying wish' was to meet musician Sheebah Karungi and this her wish was granted to her- thanks be to God. When she got on stage, teary, she confessed her love and support for Sheebah being an ardent fan. In a weak voice, "I was diagnosed with cancer, and the doctor recently told me I have only two weeks to live. I came here tonight so I can meet you before I die," she cried.
This act of love sent shivers down the spine of Sheebah who was left motionless and wordless as she broke down, with a hug, crying. Sheebah then sang for her "Nkwatako," Nankinga's favourite song after which Sheebah gave her a jacket as souvenir.
Fortunately, months have gone by and Nankinga seems to be getting better by the day. Were the doctors wrong about her condition? Or did they rush their judgement of her death time or was Nankinga faking it all along?
She's full of life and uploads twerking vidoes; watch one here; 
Nankinga has often taken to her Facebook page to bash people who try to question her wild ways ever since word of her illness went viral. She has verbally attacked some of her Facebook friends with rather sharp words and a vulnerable Alice Kinga that was when the #SaveAliceKinga hash tag started circulating is no more.
She has on several occasions been seen at night clubs, bars and Oasis Mall Nakumatt buying booze in the company of unknown boys in the wee hours of the night.
When we reached out to her, she explained to us that she is a girl who loves dancing and partying to the extent that not even her failing health can stop her. "I love partying, music, and dancing and my personality has never changed," she explained.
When we asked how she is faring, she reliably informed us that the doctors couldn't do anything about her condition although she is on treatment of some sort. "I am doing quite well, on alternative therapy feeding on vegetables and fruits," Nankinga explained and when we asked her if she takes alcohol or shisha, "I don't take alcohol, nor do I smoke Shisha, I just go to the bar to dance and have some fun," she added.