After the tragic death of Fast and Furious franchise main character Brian O' Conner (Paul Walker real names) everything about this franchise came to a standstill including the then to be released next in this chronological series, Fast & Furious 7. Many anticipated its demise but now that it's here, many are curious to know what's more too it after the death of main character, Brian, therefore the movie sprouting into Fast and Curious. But no go worry anymore since this splendid movie, boarded a plane, was flown to Uganda and is to be premiered around Ugandan streets today.
Four reasons that will make you opt for this movie premiere over other entertainment events happening at today's Easter break eve, Thursday.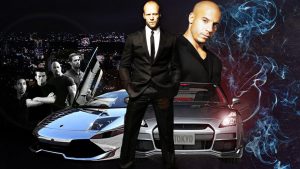 She's A 90's Bitch
She obviously asked for a decent send off before you part ways for this rather long Easter break with family. There are two events dominating social media and Uganda at large as of today; the Billy Oceans Concert and the Fast and Furious 7 movie premiere. But you happen to have a 90s babe who definitely knows nothing of this legendary blues singer Billy Oceans existence or music. If there is one University student who knows Billy Oceans it must have been from his Fathers cassette tape music. Ok let's say you choose to take her to Serena for the concert, there basically two things involved
    1)Get Poor or Die Trying
Get ready to fork deep down your pockets, and sell your hostel room appliances since a mere ticket for this event goes for a stinking 300k which I bet is most campusers' meals expense for an entire semester while at university.
    2) Avoid the Embarrassment
Here my shouts go out to those in the working class and are hooking up campus babes. Please I probably know you have already drained your bank account of last month's salary stack your small plot of land just to get a smile on your university girlfriend face today. First demise is she go arrive in leggings and a pair of gladiators all to attend Billy Oceans with excuses of I was from a lecture hun! Blinded by your overwhelming love for her you'll live by this first embarrassment only to be buried by her extensive villageness during the show. I mean she'll look at the menu for an hour and only order for juice, then seek cheap popularity by ignorantly shouting, screaming and humming throughout Billy Oceans' performance then the obvious will kick in. She is going to take photos of everything from the Serena hotel's cattery to the tables, her feet touching the Serena tiled floor to selfies and post them all over social media.
So why waste you fortune on such, take her to the ill lit cinema where here prototype for a smart phone would have no chance to take any sensible photos.
She Likes It Rough & Aggressive
During the course of your relationship or during one of your bed time copulation sessions, you noticed she relishes it rough and hefty. From the incredible trills in the trailer of sky diving cars to the tantalizing scenes of Brian O'Conner running atop a bus slipping off a clip and a daring rescue move by Michelle Rodriguez to save Brian. Not forgetting the introduction of villain Jason Statham who plays the Ian Shaw character, Ian who killed Han(Sung King) in Fast & Furious Tokyo Drift is back to avenge his brother's death, Owen Shawn(Luke Evans) who was killed by the Dom. These ridiculous and comical scenes encompassing this seventh trilogy arouse fear, intrigue which will leave both your hearts thumbing hard from your chests and readying you for coitus. Oh remember it's a movie, so shit aint real and this makes it funny not the realistic Billy Oceans lullabies.
The Fast and Furious 7 movie will be premiering at the Century Cinema and all thanks to V Power and at the 3D Cinema Magic are possible by Cheki Uganda. while to the rest of the world it will premiered on Friday 3rd April.
Comments