There is an event that should not only 'cleanse' you as you wait for the Pope to land on Ugandan soil but also escape the #UgandaDecides drama.
Break-Fast Jam and Breakdance Project Uganda have partnered with the U.S. Embassy in Kampala to bring one of the world's most celebrated B-boys to Uganda for the 5th annual Break-Fast Jam Finals, to be held at YMCA in Wandegeya, Kampala, on Saturday the 21st and Sunday the 22nd of November, 2015.
Break-Fast Jam is an annual breakdance event held in Uganda and Kenya, which brings together participants from East African countries and the rest of the world. Its overall aim is to cultivate a positively enriching breakdance culture in Africa. This initiative empowers participants socially and economically by elevating them with practical skills, knowledge, inspiration and experiences on a neutral platform. Break-Fast Jam's activities include: workshops, competitions, performances, exhibitions and educational discussions.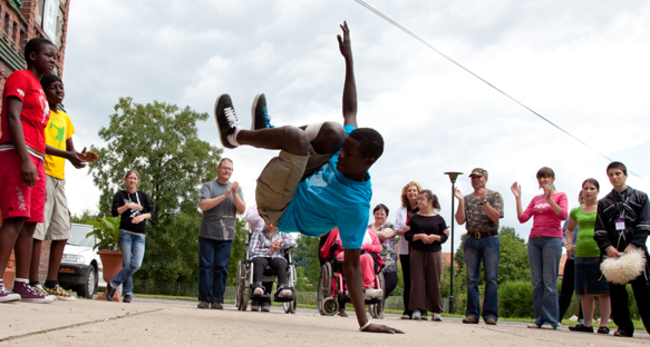 The Break-Fast Jam Finals will be 2015's crowning event following elimination rounds in Eastern and Central Uganda and Kenya. Exceptional dancers have also been invited from DRC, Rwanda and Tanzania. Entrance is 5,000UGX and free for kids 10 years and below.
The special guests slated to grace the two day event Crazy Legs (USA); who is a pioneer of break dance from the 1970s as part of New York's Rock Steady Crew and Bgirl Locca (Switzerland) who is part of the Chinese Southeast Crew, will judge breaking battles along with Ugandan dancers, and will lead dance workshops for Break-Fast Jam participants. J Snuff (UK) who is also part of the Universal Zulu Nation will be the official Dj at the Break-Fast Jam event at YMCA.
The trio will also teach some clues during Breakdance Project Uganda's free classes for the public at the Sharing Youth Centre, Nsambya, on Wednesday November 18th and Monday the 23rd.
See you there as we break a leg!
Comments