Kyambogo University's administration, on the 28th of April 2020, generously donated five tonnes of maize flour and 100 boxes of bar soap equivalent to 1.5 tonnes, to Uganda's National Task Force in a bid to help fight the novel COVID-19 virus.
Now, the same administration on April 10th informed starving and stranded students that it is unable to render assistance to them advised them to contact their embassies and parents.
Kyambogo University, through the dean of students, Mildred Tibananuka has told the students starving and stranded at hostels and rentals that the "University finds it unsustainable to give relief (material or financial) to particular students when the period of reopening is not known." She adds that each student should have got in touch with his/her parents/guardians/Embassies to find a way of getting home or financial support for upkeep wherever they are staying.
The guild president of Kyambogo University Jonathan Tundulu recently delivered a petition in which he sought food relief for international students from the university. This, however, has not been honored.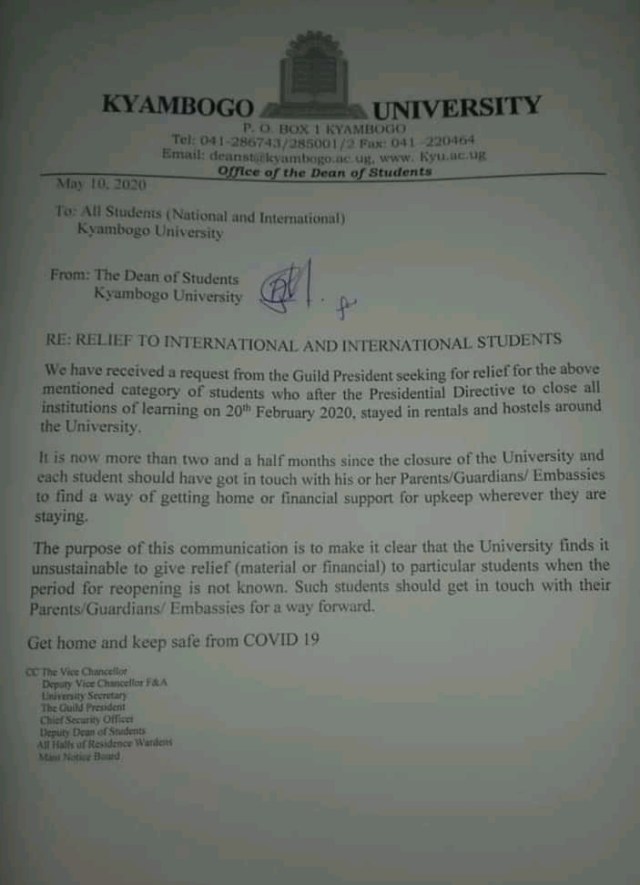 Students at learning centers across the country were sent away from school in mid-March to avert the spread of the coronavirus pandemic. The international students were not able to return home because borders were closed soon after and have since then been stranded in their hostels and rentals for over two months. This website last week reported that some female students at the Banda based university have resorted to prostitution for survival.