Makerere University students that were there in the 2015/2016 academic year must very well remember a player in the university politics that was going by name Biddemu Bazil Mwotta. Then a second year student from the School of Education, Mwotta swept the university in his assault for the position of Guild President.
Now a student of Law at the same university, the former resident of University Hall has led the Makerere community along a path of nostalgia as they recall 2016 times when they missed the chance of having him as the university top most student leader.
For those that may be new to this player, Mwotta was announced winner of the 2016 guild election but his celebration was short lived when the initial second runner up, Roy Ssemboga challenged the election in the university tribunal and consequently the courts of law.
He has, according to sources inside his camp, now re-strategized and with Bobi Wine's National Unity Platform (NUP) fully behind him seeks to sweep the university and take it away from the ruling National Resistance Movement (NRM) that has occupied the position in the 2016-2021 term of office.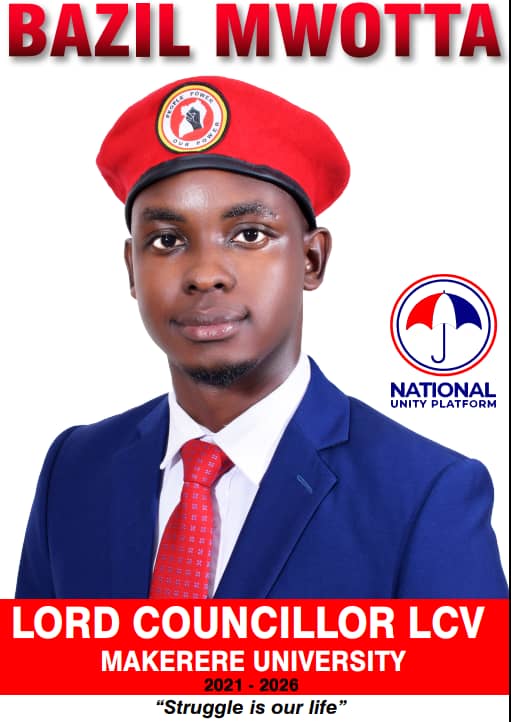 A self made entrepreneur, Mwotta is an agriculture enthusiast, teacher, and politician. At a very tender age, Mwotta harnessed an insatiable desire to impact positive change in his community. Having grown up in a predominantly farming community; Katiiti, Mpigi District, Mawokota, Mwotta interfaced directly how his mother as well as other farmers were being exploited by middle men who bought from them farm produce at cheap prices and sold to buyers in towns at exorbitant prices. This gradually affected the livelihoods of these farmers whose sole source of income was and still is agriculture.
In the bid to address this challenge, he started up AgroDuuka; a robust agricultural produce supply chain management software, supported by the Global System for Mobile communication that directly connects smallholder rural farmers to buyers in the market at a low cost via SMS and the internet, before and after harvest.
Because of this great work that Mwotta is doing, he has received enormous Awards and recognition. Recently, June 2018, Mwotta at a high class event at Buckingham Palace in London, United Kingdom received the Queen's Young leaders' Award from her Royal Majesty Queen Elizabeth II. In 2019, Mwotta was listed as one of the Top 40 under 40 most influential Ugandans by the New Vision.
"Well, to be honest with you, I have interacted with almost all the aspirants in this race, and I find Bazil Mwotta's spirit of service to the people of Makerere University unmatched with the rest of his contenders. He is the most popular aspirant among the residents of the University especially because of his previous outstanding student leadership and the Awards and the many International Recognitions that the young man has received to his names." Emma Etukoit Imalingat, a resident of Makerere, and Author of the Book, 'Insights into Uganda's Failed Targets' told Campus Bee.
Imalingat further said that he believes Mwotta's down to earth, yet aggressive leadership, exposure and innovativenes is what an institution of higher learning such as Makerere University requires for effective representation to KCCA.
The candidate has banked his aspirations on four major manifesto points; Advocacy, Improvement in the welfare of the students (renovation of halls of residence, security, health services), Welfare of teaching and non-teaching staff, improvement of sports and infrastructure development.
Once voted into office, Mwotta will have a voice on the Makerere University Council, the top decision making organ of the university.